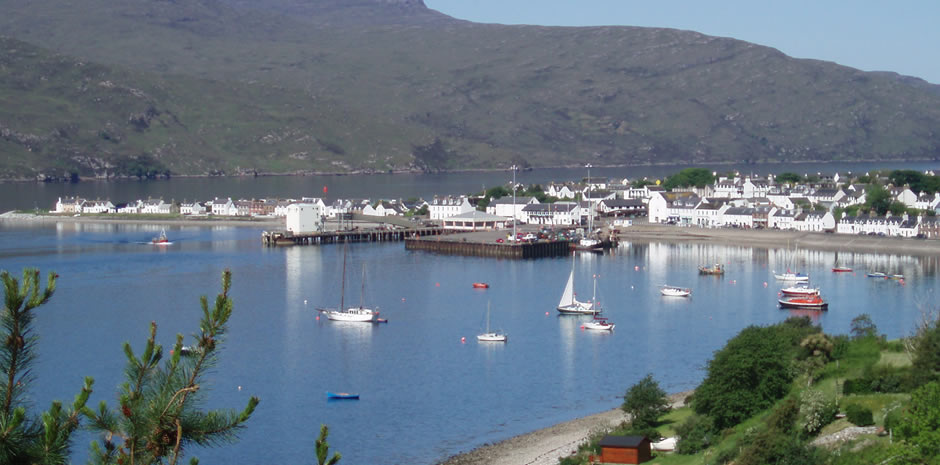 Ullapool sits on the banks of Loch Broom, the gateway to the Summer Isles and Hebrides. There have been settlements and human activity here for thousands of years, the remenants of which still scatter the hills and coastline from Pictish forts, iron age burial sites and prehistorical encampments through to crofting ruins and Victorian estates and hunting lodges. The history and heritage is still felt as you vistit the area, as are the dominating mountains and geological features carved into the landscape over thousands of years.
The fishing industry has influenced and affected the development of this historic port, and the harbour still plays an important role today but modern Ullapool has also become recognised as a destination for those seeking access to the region, the Summer Isles, coastline and Hebrides. The village plays host to a multitude of cultural events ranging from dance, literary, music and cultural festivals and also provides a great destination for those seeking to enjoy the landscape, walks and climbs, food, drink and peace..
Festivals
Ullapool is the host to a dance festival, book festival, skiff regatta, tall ship expeditions, Loopallu music festival, guitar festival and even a beer festival every year. We also see numerous art, theatre, music and cultural events and performances.
Nature and Wildlife
Boat trips from Ullapool Harbour visit the Summer Isles and encounter seals, sea birds, dolphin, whales and sea eagles. The ferry lnk to Lewis offers and opportunity to visit the Hebrides and we are the gateway to the North West Highland GeoPark.
Landscape & Scenery
Walking, driving, cyling and climbing are all on our very doorstep. Coastal routes take in preserved fishing villages and crofting communities, Coigach and Assynt peaks are visible all around us, and paths, climbs and treks are within easy reach.